DOGS IN THE OFFICE FETCH ITV'S ATTENTION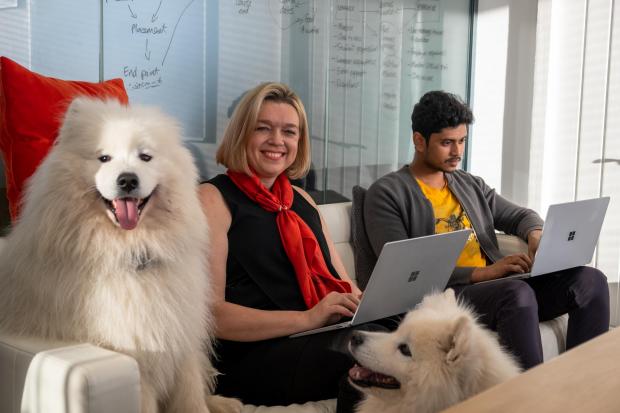 Dogs in the office? Some business professionals baulk at the notion, but Cloud9 Insight's CEO and founder is keen to challenge misconceptions about our four-legged friends, and just how vital they might be in boosting mental well-being in the workforce. In her own words:
"Stroking a dog is known to reduce stress and increase well-being, releasing vital mood-boosting hormones like serotonin and oxytocin into the bloodstream."
Recently, to boost recognition of International Stress Awareness Week and promote the company's own dog-friendly approach to office culture, Carlene and the Cloud9 team opened their doors to dogs, and it didn't take ITV Meridian long to sniff out the story!
Talk a walkies right this way to read Abigail Bracken's coverage of Cloud9's dog-friendly workday. 
Turns out, it was a benefit born of necessity, like so many of Cloud9 Insight's incredible offerings: a shockingly hot summer! It led Carlene to bring her fluffy Samoyeds Bear and Shaska in to dodge the heat and make the most of the company's air conditioning.
"A lot of our employees wanted to come to the office because we have pretty good air con. But it occurred to me that WFH employees' pets might be struggling in the heatwave, too.
I took the lead, so to speak, and brought my dogs into the office. I have two fluffy Samoyeds and I encouraged employees to bring their dogs in as well."
Hounds were a hit with employees, and have since gone on to become a regular fixture! Decriers alarmed by allergens don't need to worry either: the most regular canine Cloud9'er is a hypoallergenic toy poodle named Dolly.
For more on this brilliant story, you can head to Startups Magazine's coverage, The Daily Brit's coverage, Yahoo! Finance's coverage, RSVP Live's coverage, 98fm's coverage and Cloud9 Insight's own write-up… perfect for wagging tails!